The Irish Pirate Queen Collection (Grace O´Malley)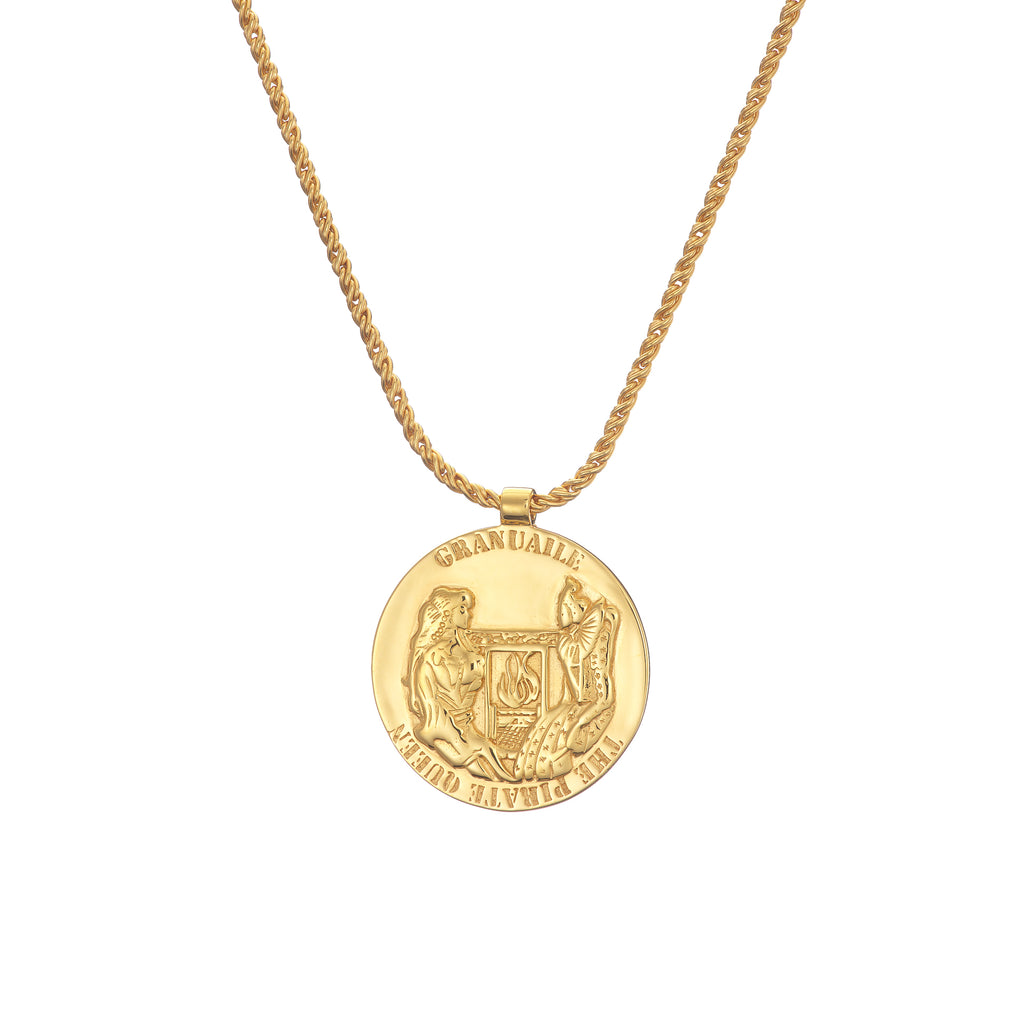 Irish jewellery designer, Jennifer Kinnear, draws on the spirit of a fierce and fearless 16
th
century pirate queen in her new collection for 2019:
Granuaile - the Irish Sea Queen.
Gráinne Ní Mháille, or Granuaile, was Chieftan of the Ó Mháille clan in Ireland. Born in 1530, she cut her hair at fourteen and stowed away on her father's ship. After demanding that he taught her to sail, the rebellious young woman went on to live an extraordinary life of privateering and pirating on the waters of Ireland's Clew Bay and beyond; ultimately taking on the English aristocracy and even Queen Elizabeth herself.
Granuaile's story is one of passion, bravery, courage and defiance - qualities that continue to resonate for many women today.
Jennifer Kinnear's imaginative collection tells Granuaile's story through beautifully crafted gold and silver pendants, rings, and earrings.  The collection includes:
A compass, ship wheel and north star pendant necklace.
Octopus tentacle necklaces and earrings
A medallion necklace depicting Granuaile and Queen Elizabeth's famous fireside encounter 
Large stone rings set with citrine that look as if they were forged in the 15th century.
Pearl and bow necklaces, earrings and bracelets, delicate and show piece styles, based on treasure she may have found along her travels.
"My work has always been inspired by the sea and I grew up sailing boats in Ireland, so this collection is a perfect fit for me. To this day, many women, continue to show courage and defiance against all the odds, just like Granuaile. I love her and I think you will too," says Kinnear.
More about Granuaile: The Irish Sea Queen
At sixteen, Granuaile was forced into a marriage of convenience with Dónal an Chogaidh, the wealthy heir of a neighbouring clan. They had three children together. When an Chogaidh was killed in battle, Granuaile inherited his castle and raised the children on her own. Her father was Chieftain of the Ó Mháille clan and upon his death, she took over his title along with his ships and sailors. Feisty and fearless, Granuaile commanded respect and loyalty from her men.
Now a powerful pirate queen, Granuaile increased her wealth by demanding taxes and goods from ships sailing around Ireland, Scotland and even the dangerous waters of Spain. Ever the tactician, she then married Risdeárd an Iarainn, the 18th Lord of Mac William Lochtar, but soon divorced him under Brehon law. She seized his property, which was known as Cock's Castle -- it was renamed Hen's Castle. Despite kicking him out of his castle, Granuaile used her wile and cunning to remain allies with an Iarainn.
By the late 1500s, as England sought increasing power over Ireland, relationships between the English aristocracy and the rebellious Granuaile had soured. Lord Richard Bingham killed her eldest son and imprisoned the other two. The Irish sea queen sailed up the Thames and demanded a meeting with Queen Elizabeth. By the fireside, Grainne worked her charms on Elizabeth, another powerful woman with whom she had much in common. Ultimately, she secured her sons' release and lived out her days on the sea - privateering and pirating without interference.